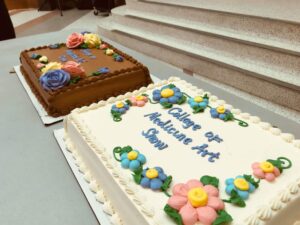 The Creative Arts Interest Group, or CAIG, is one of the many medical student interest groups at the University of Manitoba's Max Rady College of Medicine. Made up of three first-year and three second-year medical students, who all love art in some way, the Creative Arts Interest Group strives to encourage medical students to engage in creativity with their peers and share their love of the arts with the wider community. The Creative Arts Interest Group was created in 2018 as a conglomerate of the Art, Writing, and Music Interest Groups. Since then, CAIG has been better able to serve the creative interests of the medical student body.
One of the biggest events put on by CAIG every year is the Max Rady College of Medicine Art Show. It has traditionally been a week-long event held in Brodie Atrium, complete with a gala to celebrate the artists and their works. A different theme is chosen for each year's art show. This year we have chosen not to select a theme as we wanted to give everyone the freedom to explore their creativity in light of the difficult year we have all faced
The art show is usually put on in collaboration with Art City, a non-profit community art studio that aims to provide the greater community with art programs and opportunities to express themselves. CAIG has traditionally worked with Art City's children's programs, at their main studio and their outreach sites. We teach the children about the year's chosen theme and work with them to create a centrepiece for the art show. The children also contribute their own pieces to the art show and are invited to attend the gala with their families. This year we held virtual sessions with the children, which gave the children an opportunity to ask a group of medical students questions that they have about medicine and medical school. This was followed up with a game where a medical student would name a medical word and the children would draw what they thought that word meant. Some of these drawings have been posted under the "Art City" tab.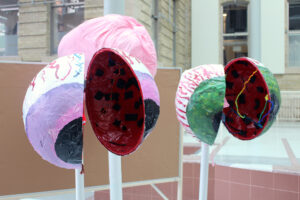 Last year, we created this website in order to hold the Art Show virtually as an adaptation to the ongoing COVID-19 pandemic. You can find last year's submissions under the "Art Show 2020" tab. All other tabs contain the work that has been submitted for this year. We hope that this platform continues to allow individuals to express themselves, to share their feelings and remind everyone that despite this pandemic, we are all still connected by art and creativity.
With the ongoing COVID-19 pandemic, we were unsure of what would happen to the art show. However, we felt that in these uncertain and trying times, we need creativity more than ever. With school and social events cancelled, many people may turn to the arts as a way of dealing with their feelings. Besides, as our theme so fittingly suggests, the future really is now. We had all the technology at our hands to create a virtual edition of the art show so we decided to harness that to our advantage. We wanted to give everyone a platform to express themselves during these trying times, to share their feelings and remind everyone that despite this pandemic, we are all still connected by art and creativity.
With that, we are pleased to present this year's virtual Max Rady College of Medicine Art Show. We have a wide variety of works, from paintings to poetry to music to videos. There is something for everyone. Please browse the website at your leisure and enjoy the art show!
From our hearts to yours,
Creative Arts Interest Group, 2020 – 2021